Retractable banner stands are some of the best pieces for trade shows, fairs, events and seminars. They are really practical, long-lived and providing sufficient information about your brand and products.
To use pull up banners for promotional purposes, you will have to answer several key questions in advance. They will help for the selection of the most suitable retractable banner stand and for the creation of the best graphics.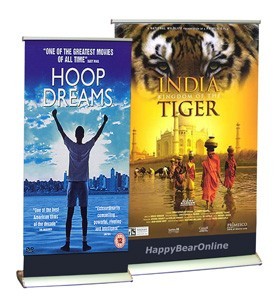 Indoor or Outdoor Usage?
How long do you plan to use your pull up banners? Will they be displayed mostly indoor or outdoor? The manner in which you plan to use these promotional materials will be determining for the selection and the price of the pieces.
Some materials are more durable and long-lived than others. Pull up banners with added block out laminate are scratch-resistant and waterproof. They may also come with UV filters that keep the colors from fading due to sunlight exposure.
Such banners are perfect for long-term outdoor usage. The durability of the materials will keep the quality of the graphics unchanged. A retractable banner stand that is suitable for outdoor usage can also be displayed indoor but the opposite is not true.
Choose the Right Size
Pull up banners come in various sizes and shapes. Think about your presentation and the use of other promotional materials, in order to select the most appropriate size.
A smaller piece is suitable for addition to a presentation booth that is colorful and filled with other promotional materials. Larger retractable banner stands are great as stand-alone pieces because they will immediately capture the interest and the attention of the audience.
If you plan to put the pull up banner in the middle of a room, you may consider a two-sided piece. There will be graphics on either side of it and you can deliver two messages with one promotional piece. Some retractable banner stands are three sided, which provides even more flexibility.
Think Carefully about Graphics and Text
The graphics are probably the most important part of creating retractable banner stands. The fact that you can print anything on the surface makes the task even more challenging.
Stay away from exceptionally bright colors. They tend to irritate the eye and to "scream" at the audience. Instead, stick to more visually-pleasing and harmonious combinations. They will encourage people to explore your promotional materials for a longer period of time.
A light background and dark letters enhance readability. Refrain from using reverse type (white letters on a dark background). It may look fancy but it is incredibly difficult to read.
Finally, stick to a limited number of colors. You may think that bright and colorful is attractive but a mix of too many tones will look unprofessional and it will divert attention away from the main message.
Focus on Your Corporate Identity
The best strategy for the creation of effective and attractive retractable banner stands involves relying on your corporate identity.
Choose the colors that are present in your logo, on your corporate website and in other marketing materials. This is of paramount importance for the creation of visual consistency and corporate identity.
The same applies to the usage of fonts and type colors. Make sure that your logo is visible and placed strategically. Putting emphasis on your brand and highlighting its characteristics is the best way to be recognized and remembered by the audience. A retractable banner stand can achieve a lot but you have to be smart about your presentation.